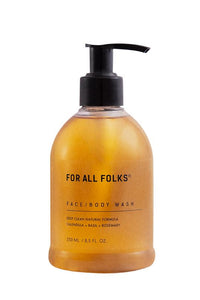 (FACE + BODY)

Face & Body Soap 250 ml
Helps to keep your skin clean, hydrated and healthy, while protecting it from external agents. For all skin types.

Benefits
Unisex.


Eliminates skin tightness sensation.
Restores and balances the PH.
Prevents acne. Controls breakouts and pimples.
Removes light make-up.
Fresh sensation thanks to the blend of Rosemary, Basil and Chinese Mint oils.
Main ingredients
Calendula Extract: Prevents skin dehydration. Regulates sebaceous secretion and detoxifies the dermis. Natural astringent action.

Rose Extract: Moisturizes and provides suppleness to the skin. Natural antioxidant. Regulates horny layer lipids.

Neem Extract: Stimulates the skin's immune system. Antibacterial and antiseptic action.

Rosemary essential oil: Accelerates cellular healing. Aroma note.

Basil essential oil: Regulates melanocyte function. Stimulates cell regeneration. Aroma Note.

Chinese Peppermint essential oil: Rejuvenates and firms the skin. Regulates the P.H. Aroma Note.



(CARA + CUERPO)

Jabón facial y corporal 250 ml
Ayuda a mantener la piel limpia, hidratada y sana, a la vez que la protege de los agentes externos. Para todo tipo de pieles.

Beneficios
Unisex.


Elimina la sensación de tirantez de la piel.
Restaura y equilibra el PH.
Previene el acné. Controla los brotes y espinillas.
Elimina el maquillaje ligero.
Sensación de frescor gracias a la mezcla de aceites de romero, albahaca y menta china.

Ingredientes Principales
Extracto de Caléndula: Evita la deshidratación cutánea. Regula la secreción sebácea y desintoxica la dermis. Acción astringente natural.

Extracto de Rosas: Hidrata y aporta flexibilidad a la piel. Antioxidante natural. Regula los lípidos de la capa córnea.

Extracto de Neem: Estimula el sistema inmune de la piel. Acción antibacteriana y antiséptica.

Aceite esencial de Romero: Acelera la cicatrización celular. Nota de aroma.

Aceite esencial de Albahaca: Regula la función de los melanocitos. Estimula la regeneración celular. Nota de Aroma.

Aceite esencial de Menta China: Rejuvenece y reafirma la piel. Regula el P.H. Nota de Aroma.