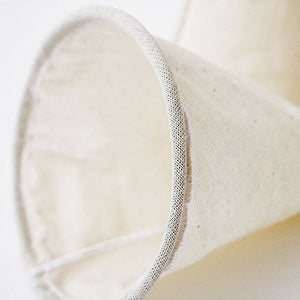 A must for the pour-over coffee maker and coffee dripper! We love how it brings body to coffee and provides an aromatic experience when preparing it. 
Purchase includes 1 coffee filters.
How to take care of your filter:
Before brewing your coffee, rinse it well with hot water to make it damp. After each use, rinse it again with plenty of water to remove remaining coffee grounds and to prevent it from turning brown. Overtime, it will naturally turn brownish, however, we recommend soaking it in water with CAFIZA or coffee cleaning powder every now and then. Do not use soap or detergent. The cloth is extremely absorbent and it may alter flavor in your coffee.